ELNORA F. LITTLETON
BCCAA INC. Executive Director
The Department of Health and Human Services, Administration for Children and Families – Region IV – Office of Head Start and the Bolivar County Community Action Agency, Inc. Board of Directors appoints the first African American female to the executive position over the Bolivar County Head Start Program.  Elnora F. Littleton (a Head Start pioneer in her own right) is no stranger to the program. Her testimony is one of success – which started over forty years ago as a high school graduate employed in the Head Start Program. Her ambition, dedication and passion for the betterment of low-income children and families in Bolivar County, MS has served as stepping stones promoting her from Teacher's Assistant to Teacher; from Center Director to Nutrition Director and, from Education Director to Head Start Director.  
Serving faithfully under the leadership of former Executive, Billy J. McCain, Ms Littleton has witnessed transitions and development of Head Start's meager beginnings to a multi-million dollar program. As Executive Director, Mrs. Littleton is responsible for programmatic and fiscal components that serve 566 head start children, 152 Early Head Start children.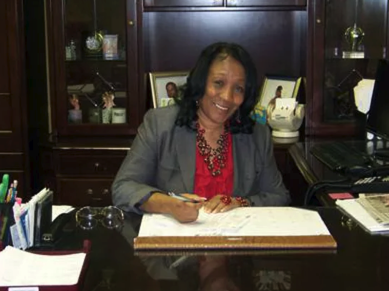 ELNORA F. LITTLETON
ABOUT US
BCCAA is 501(c)(3) tax-exempt organization with a fifteen (15) member board of directors composed of equal representation from the public, private and poor sectors.

The Agency's principal activities consist of carrying out Community Action Programs through grants received from the State of Mississippi Department of Human Services, the Federal Department of Health & Human Services, the Mississippi State Department of Education and other governmental and private funding agencies.

As a leading program in the State of Mississippi, BCCAA provides a variety of services ranging from preschool childcare to a senior companion program; from a transitional and homeless shelter to a Homeless Prevention Rapid Re-housing Program; from an adolescent opportunity program to a general education diploma program; from utility/rental assistance to education assistance.

The agency's mission is to enhance the well-being, economic independence and growth of low-income individuals and families to become self-sufficient and foster community empowerment and development.